Venturer KLR19132 Kitchen TV – Review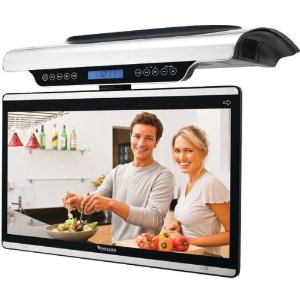 Streaming Video
In this internet era where technology continues to evolve virtually overnight, even your kitchen can receive a high tech boost with the help of Venturer's KLR19132.
The KLR19132 is an unprecedented leap in the under cabinet kitchen television sector as it is the first of its kind to utilize and take advantage of a wireless internet connection that is so much a part of many peoples homes.
Pro's
Apart from the basics such as a built in TV tuner and FM antenna, what sets the KLR19132 apart is its ability to take advantage of online streaming with instant access to popular internet services such as Netflix, Youtube, Hulu plus and even Pandora.
Technologically miles ahead of its competitors with a sleek contemporary design the KLR19132 is a great addition to any kitchen and anyone looking for an additional means of entertaining your family or guests.
Con's
With that being said the KLR19132 is not without its flaws, the biggest of which are the units weak power of the speakers. Like many other under kitchen cabinet televisions notoriously known for weak speakers the KLR19132 is no powerhouse in that department either.
The fact that the unit is not equipped with RCA output jacks to connect external speakers that can provide a little more punch does not help as well. The units wireless connection is also far from perfect and tends to drop the signal from time to time.
Yes the KLR19132 is far from perfect and one might say that the units features are overshadowed by its lack of execution. However, the KLR19132 is the first of its kind and like many other products at the technological forefront, faults are to be expected.
If your in the market for a standard under cabinet television and internet connectivity is not a feature worth noting than the KLV39150 may be a better option as it has a solid build quality and capable speakers.
But if your looking for an entertainment powerhouse, you can enjoy your favorite music with Pandora and watch your favorite shows and movies with Huluplus and Netflix all without leaving your kitchen.
View all of our Kitchen televisions